Datorer - Begagnat (före Intel) - TAM Twentieth Anniversary Macintosh (Spartacus)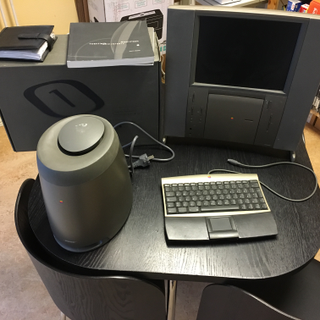 TAM Twentieth Anniversary Macintosh (Spartacus)
32MB RAM, 2GB hårddisk, CD-ROM, diskett
The TAM was to break the established form factor of the personal computer. One of the first projects of Jonathan "Jony" Ive, the design of the TAM was both a state-of-the-art futuristic vision of where computing could go as well as a redevelopment of Apple's original objective to create a device that would integrate into people's lives.[citation needed]
The TAM featured a 250 MHz PowerPC 603e processor and 12.1" active matrix LCD powered by an ATI 3D Rage II video chipset with 2MB of VRAM capable of displaying up to 16bit color at 800x600 or 640x480 pixels. It had a vertically mounted 4x SCSI CD-ROM and an Apple floppy Superdrive, a 2GB ATA hard drive, a TV/FM tuner, an S-Video card, and a custom-made Bose sound system[4] including two "Jewel" speakers and a subwoofer built into the externally located power supply "base unit".
A fairly thick "umbilical" cable connects the base unit to the head unit, supplying both power, and communications for the subwoofer. The umbilical connects to the base unit via a multi-pin connector, which is the possible cause of the TAM's one major fault - the "speaker buzz". Inspections of units that received a repair by Apple due to the speaker buzz found an extra resistor/s had been installed in the umbilical. Ensuring the connectors are free of dust/dirt has also been known to resolve the "buzz".
The TAM came with a unique 75 key ADB keyboard which featured leather palm-rests and a trackpad instead of a mouse. The trackpad could be detached from the keyboard if desired, with a small leather insert found underneath the keyboard ready to fill the gap. When not required, the keyboard could slide under the TAM's head unit, leaving the trackpad exposed for continued access. The TAM also came with a remote control (standard with the Apple TV/FM Tuner card), but also featured buttons on the front panel that could control sound levels, CD playback, brightness, contrast, and TV mode. The pre-installed operating system was a specialised version of Mac OS 7.6.1.
Expandability was offered via a 7 inch PCI slot and Apple Communication slot II for the addition of Ethernet. Later G3 upgrade options offered by Sonnet and NewerTechnologies made use of the TAM's Level II Cache slot, which allow the computer to reach speeds of up to 500 MHz. All of these options come at the price of the TAM's slim profile. The back panel must be removed, and replaced with an (included) "hunchback" cover that adds several inches to the depth of the machine.
One last unique feature of the TAM greeted owners when they turned the computer on – a special startup chime used only by the TAM. This chime does not sound the same when played on other devices, possibly simply due to the design of the Bose speakers.
Se även: https://en.wikipedia.org/wiki/Twentieth_Anniversary_Macintosh
Konfigurationer
Ej fungerande! Komplett med subwoofer, tillbehörslåda med manual och tangentbord

(M3459) [M3459]

4000 (3200 utan moms) SEK