Lagringsmedia - Thunderbolt - OWC 13-port Thunderbolt 3 Dock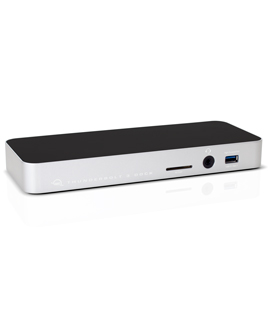 OWC 13-port Thunderbolt 3 Dock
With the 13 ports you need, OWC's new Thunderbolt 3 Dock brings unbelievable connectivity to your laptop through an included Thunderbolt 3 cable, and, delivers charging power to your laptop and other devices, all at the fastest speeds possible.

Thunderbolt 3 Dock delivers more connectivity, more power, and more charging capability than ever before all at the fastest speed available today so all your connected devices perform at their maximum. Drive two 4K displays, connect and charge up to six USB devices, work with legacy FireWire storage, enjoy pristine audio, wired networks, and read SD cards, all with twice the throughput of Thunderbolt 2 and all through a single cable. The possibilities are endless.
Dual Thunderbolt 3 Ports
Delivering the fastest, most versatile connection currently available — up to 40Gb/s.
Five USB 3.1 Gen 1 Ports
The most ubiquitous interface on the planet delivers 5Gb/s data speed, as well as high power to your devices.
SD Card Reader
With a front-facing SD card reader, easily transfer every captured moment. Copy photos and movies from your media cards direct to your Mac.
Expanded Analog Audio
Seamlessly connect external speakers and other audio equipment, listen to your favorite music, create podcasts and more with added audio-in and headphone ports.
Gigabit Ethernet
Gigabit Ethernet brings access to high-speed, reliable wired networks back to your Mac.
FireWire 800
Connect your favorite legacy devices directly to your new workflow hub.
Se även: https://www.owcdigital.com/products/thunderbolt-3-dock
Konfigurationer
Silver

(OWCTB3DK13PSL) [OWCTB3DK13PSL]

0 (0 utan moms) SEK
rymdgrå

(OWCTB3DK13PSG) [OWCTB3DK13PSG]

0 (0 utan moms) SEK