Tillbehör - Skrivare - HP Deskjet 450 & 460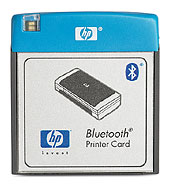 HP Deskjet 450 & 460
Now you can work wherever you're most productive and enjoy the convenience of printing practically anywhere—in a conference room, on the road, on a plane or train, in a coffee shop or hotel, at the airport, as well as in the office and at home.

Enjoy mobile printing freedom. Print conveniently from a variety of Bluetooth technology-enabled devices with no bulky cables to slow you down. Compatible with notebook PCs, tables PCs, Pocket PCs, WinCE handhelds, Palm OS handhelds and select Bluetooth technology-enabled digital cameras and camera phones.

Freedom to print on the go with Wi-Fi and Bluetooth wireless technology[2]

Print from up to 32 feet (10 meters) away via tiny, short-range wireless radio modules, even if your PC or other Bluetooth technology-enabled device is not in a direct line of sight between sending and receiving devices.

Can be recharged in the printer when not printing.

Print anytime—anywhere.
Konfigurationer
Bluetooth-kort för Compact Flash-kortplatsen, begagnat

(CB004A) [1264888]

750 (600 utan moms) SEK