Interface - USB - D-Link USB 2.0 PC Card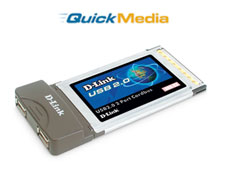 D-Link USB 2.0 PC Card
Hur installerar jag DUB-C2 på Macintosh OS X?
• Drivrutiner för Macintosh krävs för versionerna OS X 10.1.x och OS X 10.2.x.
Installationsanvisningar hittar du i användarmanualen.
• För OS X 10.3 och OS X 10.4 finns drivrutinerna inbyggda i operativsystemet.
• Obs! Denna produkt fungerar inte med OS9 eller lägre.

The D-Link Quickmedia DUB-C2 is a Hi-Speed USB 2.0 2-port Cardbus adapter that upgrades notebook computers to USB 2.0 so you can connect USB 2.0 peripherals. The DUB-C2 is designed to work with mice, keyboards, external hard drives, printers, scanners, digital cameras, and all other USB enabled devices.

The DUB-C2 provides transfer rates of up to 480Mbps* for fast transfer of digital content to and from your laptop and USB peripherals. At 40 times faster speeds than USB 1.1, the DUB-C2 enables faster print processing with USB 2.0 printers and faster document scanning with USB 2.0 scanners.

The DUB-C2 is compliant with USB 2.0 standards and is backward compatible with USB 1.0 and USB 1.1 products. This gives you the ability to connect all of your USB 1.x devices to the DUB-C2. Each port detects whether the connected device is USB 1.x or USB 2.0 and automatically runs the device at the appropriate speed.

With built-in support for both Microsoft® Windows® and Mac OS® X, the DUB-C2 is compatible with virtualy all popular operating systems for easy integration into your existing environment. Enjoy instant access to your USB peripherals from your Notebook PC using the DUB-C2.


Se även: ftp://ftp10.dlink.com/pdfs/products/DUB-C2/DUB-C2_ds.pdf
Konfigurationer
PCMCIA Type II 32-bit CardBus 2-portar minst Mac OS X 10.1

(DUB-C2 ) [584Z804 ]

399 (319 utan moms) SEK